About Coaching
Coaching is a collaborative solution-focused, results-orientated partnership you design. It focuses on what is most important to you. We work together using a systematic process to help you make the breakthroughs to success. In the coaching partnership, we create a plan, get clear on the best outcome, prioritize and work to close the gap. The results are enhanced performance, communication and leadership skills leading to very tangible results.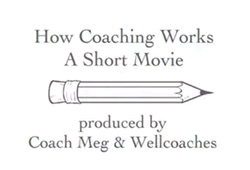 Watch this quick cartoon vignette for a visual on what coaching can do for you
Making changes in life can be challenging, particularly when we try to do it ourselves. We all have had intentions, dreams and resolutions that didn't seem to manifest. Life is busy and we have habits, thoughts and beliefs that we have become accustomed to over time which may be undermining our success or progress. Without consistent, objective feedback, support and accountability, even our best intentions can be overridden by the stress, distractions and circumstances of our daily lives.
Coaching supports you to maximize your potential and leverage your unique strengths and talents - leading you to a much happier, peaceful, successful and fulfilling life.
Coaching is highly effective
Leadership coaching produced a 529% return on investment in a study (MetrixGlobal, LLC in Nov 2001) for a Fortune 500 firm that wanted to accelerate the development of next generation leaders. 2011 Bersin &Associates' research found organizations with senior leaders who coached very frequently demonstrated 21% higher business results and organizations with "excellent" cultural support for coaching showed 13% stronger business results and 39% stronger employee results.
The 2009 ICF Global Coaching Client Study showed a 99% client satisfaction rate (companies and individuals) and showed companies that use or have used professional coaching for business reasons have seen a median return on investment of 7x their initial investment. Individual clients reported a median return on investment of 3.44 times their investment.
In a 2008 global study of 2,165 coaching clients in 64 countries by Price Waterhouse Coopers, coaching was found to provide a nearly 3.5x median return on investment for client organizations.
You will achieve more of the results you want when you combine efforts with a skilled professional. Professional coaches are trained to listen, observe and to elicit solutions and strategies from the client. Working with the client, the coach's role is to enhance the client's skills, clarity and creativity which are inherent in that person.
Choosing the right coach is important
Along with choosing a professionally trained coach, it is imperative how connected you feel with them. In order to have a successful coaching partnership, you need to feel trust and connect with your coach. You want to choose a coach who will empower you to achieve your definition of success. The professional support, insight and accountability of coaching can help you make lasting breakthroughs. That is why so many executives are working with coaches.
Why executives need a coach
According to the Harvard Business Review, 2 out of 5 new CEOs fail in their first 18 months on the job. The cause was found to be ego and a leadership style out of touch with modern times. 82% of newly appointed leaders derail because they fail to build partnerships with subordinates and peers. The gap is caused because leaders often see themselves differently than how others see them.
Coaching provides objective feedback and offers strategic processes and skills for leaders to master communication, focus, time management, planning, relationship intelligence, change management and empowerment. Through this process, executives learn about their blind spots, strengths and weaknesses. If a leader doesn't see their own blind spots, they limit their growth and career advancement.
The results of coaching? Leaders become more persuasive, influential, confident and on purpose.
In today's business climate, every individual faces a recurring challenge of responding to change and pressures at work. At a time when organizations can no longer guarantee a "job for life," successful individuals must embrace education and self-development and take on "learning for life" as the new paradigm.
Coaching Momentum Builds Over Time
You would sign on to coach for a minimum of 3 months to work on a project or series of goals. Our initial session would be a 2 hour in person or phone Discovery Session to set a solid foundation for the coaching. After that initial session, coaching takes place by phone 2-3 times per month for a 30-60 minute focused session. You choose the frequency and length of session depending on your needs. Our coaching relationship is maintained for the entire month by email and voicemail follow-up. While the sessions themselves are very powerful, the time in between is even more so, as you implement the coaching into practice and begin to see the desired results!
Why spend money on a coach?
If you want to learn how to understand how to be more effective, gain clarity, experience greater success and benefit from a champion in your life, then you would want to pay for a coach, just as you may pay for a personal trainer if you wanted to take your fitness to the next level or for a holiday if you wanted relaxation. Coaching is not just about fixing problems. It's a conversation with provocative questions, processes and tools that effects your perspective, your communication style, your beliefs and how you manage your career and your life.
I don't need my coach, but I want to have that unique relationship in my life, and it makes my life much richer and rewarding. It also keeps me accountable in my daily life to stay on track with those goals and objectives that are important to me.
Many successful executives have a coach. Steve Jobs and Eric Schmidt, the executive chairman of Google for 10 years, both had coaches for many years.
What do executives look for in a coach?
In a recent study done by Dr Brian Underhill, the top two things executives looked for in a coach were the ability to build rapport and business experience. Victoria's business clients over 32 years say her biggest strength is connecting and building relationships.
Why Not You?
It's so exciting to experience the power of your leadership and life shift toward more of what you want.
It's brilliant. Let's get started!
Victoria Brown, CPCC ACC
Executive and Personal Leadership Coach
Why Professional Coach Victoria?
Victoria Brown, CPCC ACC, is an experienced, certified coach who has helped numerous successful business owners, entrepreneurs and professionals around the globe. She has an extensive corporate, marketing, sales and retail background spanning over 32 years with a proven record of achievement generating millions in revenue, business development and problem solving.
She is an engaging facilitator who generates powerful results, implements strategic solutions and is committed to excellence. Specializing in leadership and organizational development, she frequently speaks and writes about success strategies for busy professionals and building winning teams. More about Victoria.

Jumpstart your success in business & in life with my HOW TO AVOID LEADERSHIP MISTAKES
As a BONUS receive my
QUICK STRATEGIES Newsletter.
Business Client &
Associate Testimonials

"Victoria has an excellent process…I have pushed through some barriers that have helped myself and my company grow significantly. …I feel comfortable recommending Victoria to anyone that is interested in creating a well-balanced life for themselves and their family." —Gord Schellenberg, CFP, Quasar Financial Planning Group.
"Victoria has a broad experience as a high performer herself. She is wise, sensitive, creative, and, most important, trustworthy. I highly recommend her as a coach and mentor who will work to support you to be the best you can be both in performance and as authentic in your life."
—Richard T. Clarke, President – counselor – consultant, Richard T. Clarke & Associates Inc.
"Victoria's strength as a strategic thinker is valuable. She has earned a reputation as a solutions-driven leader…she is exceptionally organized…Victoria is the person that can be relied upon to get you to the finish line." —Lori Chalmers, Publisher Vancouver Magazine
"She does an amazing job of guiding you to where you want to be. Whether it's a personal goal or a professional plan, Victoria will help you get there."—Glenda Ainsworth, National Advertising Account Executive, The Vancouver Sun and The Province